The JH LCL basketball games for today have been moved to Monday due to weather and road conditions. The games have been postponed until 5 PM Monday, January 17th. Girls will play at Olpe in the large gym.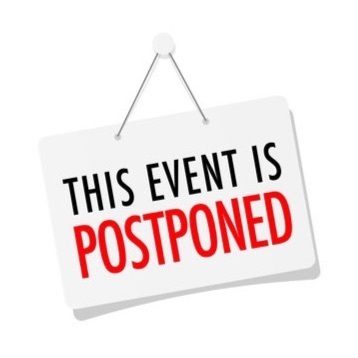 The third and fourth grades' basketball games have been canceled for today.

The basketball games for our first and second graders at Waverly for tomorrow, January 15 have been canceled. The status of the third and fourth grade games will be decided in the morning.

Due to expected precipitation and freezing temperatures, the Junior High LCL Basketball Championship games have been moved to 11:00 AM at Olpe. Transportation will leave Quenemo at 8:35 AM and the bus will leave Melvern at 9:00 AM.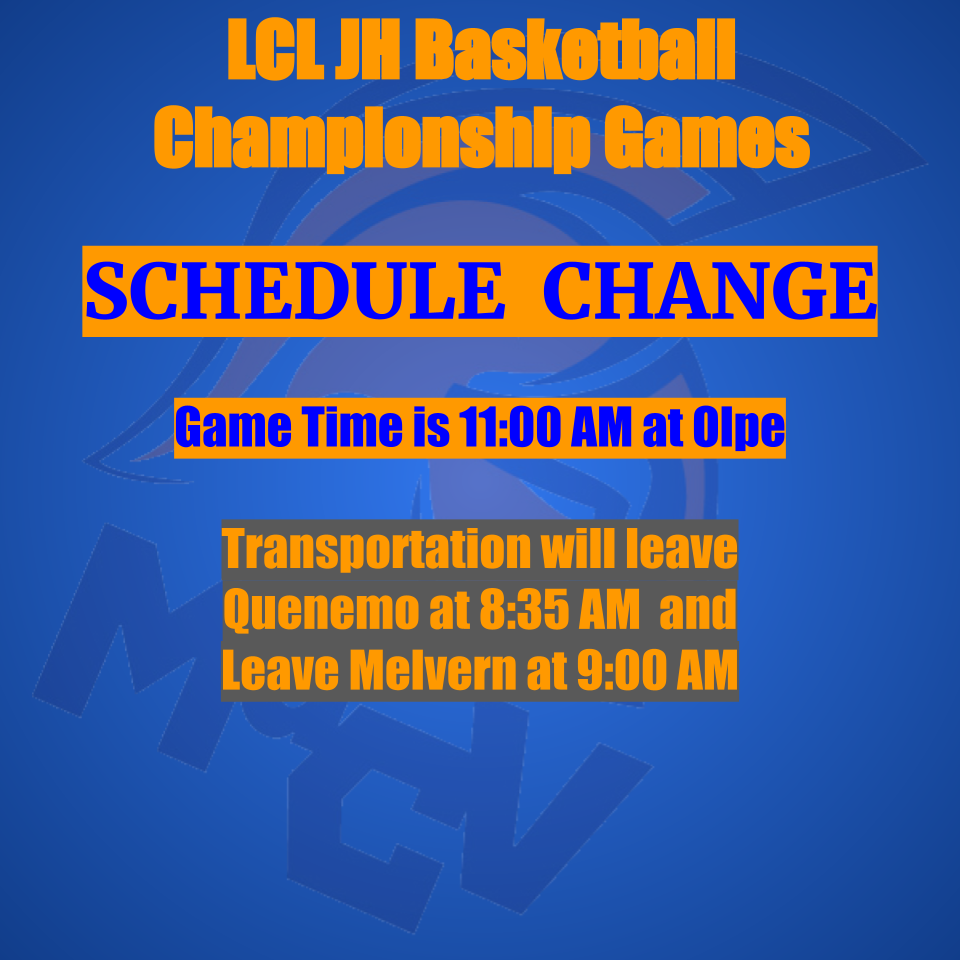 Girls beat Madison to advance to the LCL JH Championship. Game time is Saturday at Noon in Olpe! Go Trojans!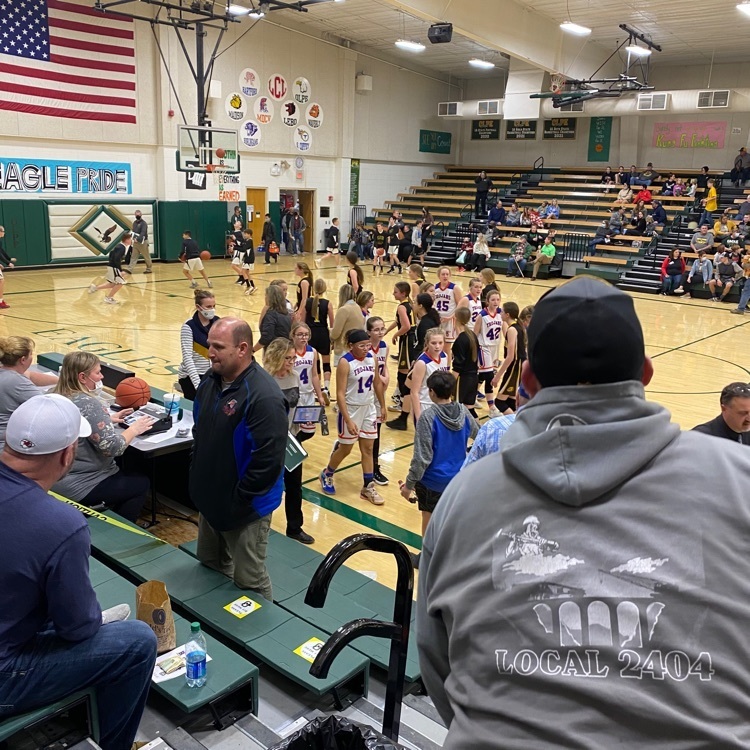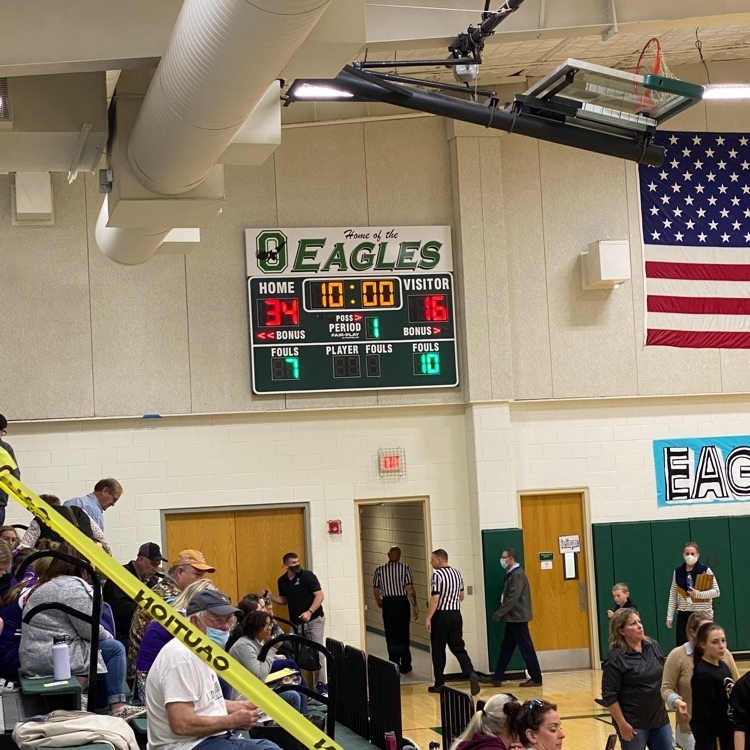 In celebration of the 101st LCL Basketball Tournament, all participants prior to and including the 1959 Tournament are invited to be recognized on Saturday, January 29th, 2022. Please contact Ted Vannocker if you plan to attend!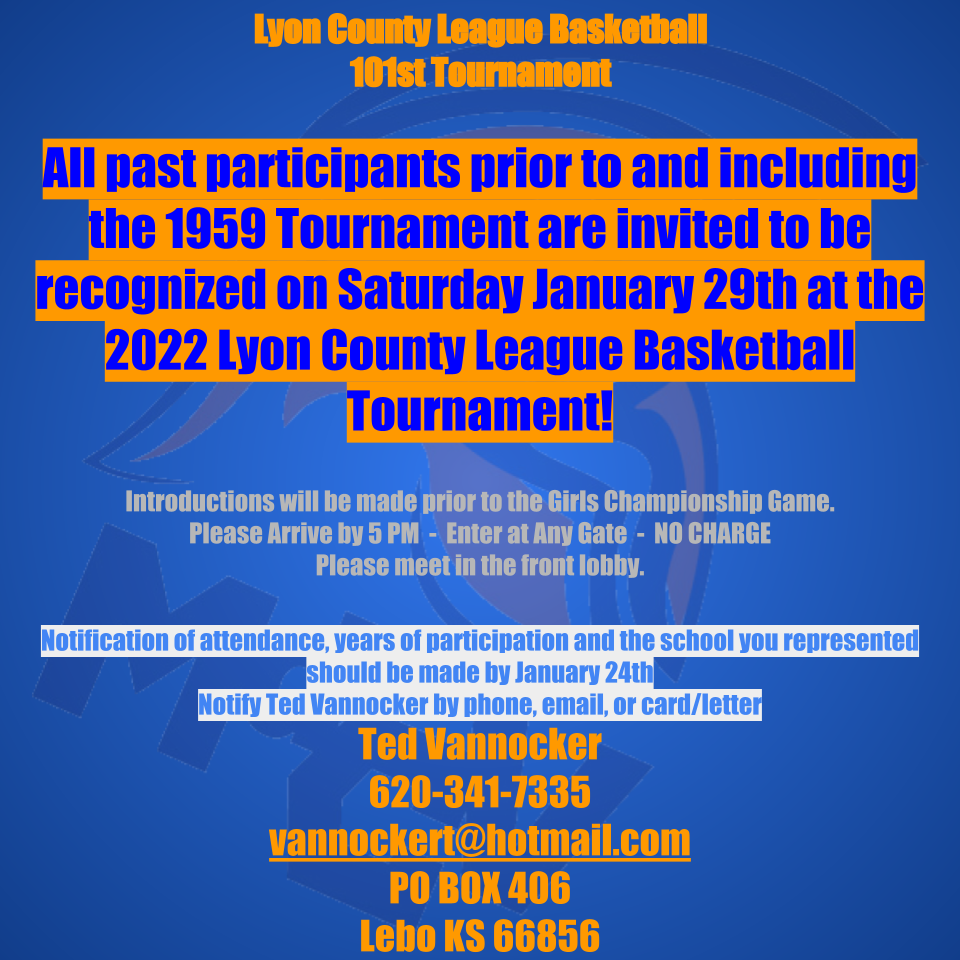 The Band and Choir students sang and played a variety of Winter Music tonight after patiently waiting to debut their Winter Program. Great Job students and Mrs. Isaacs!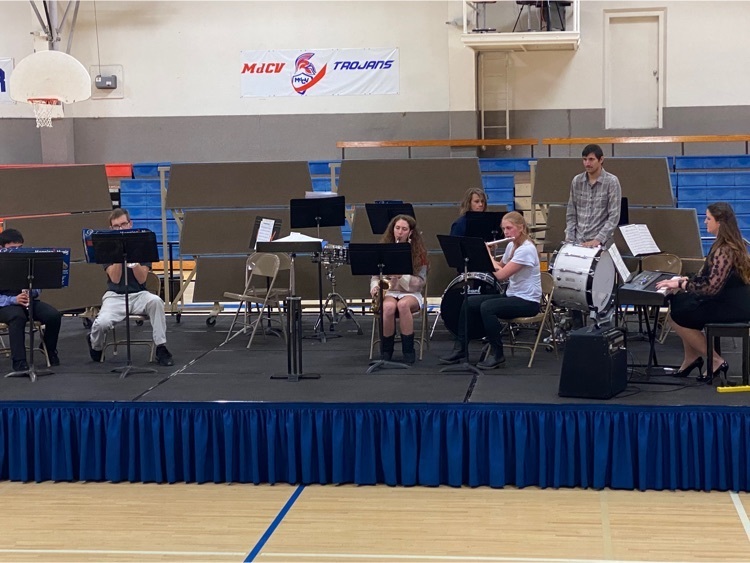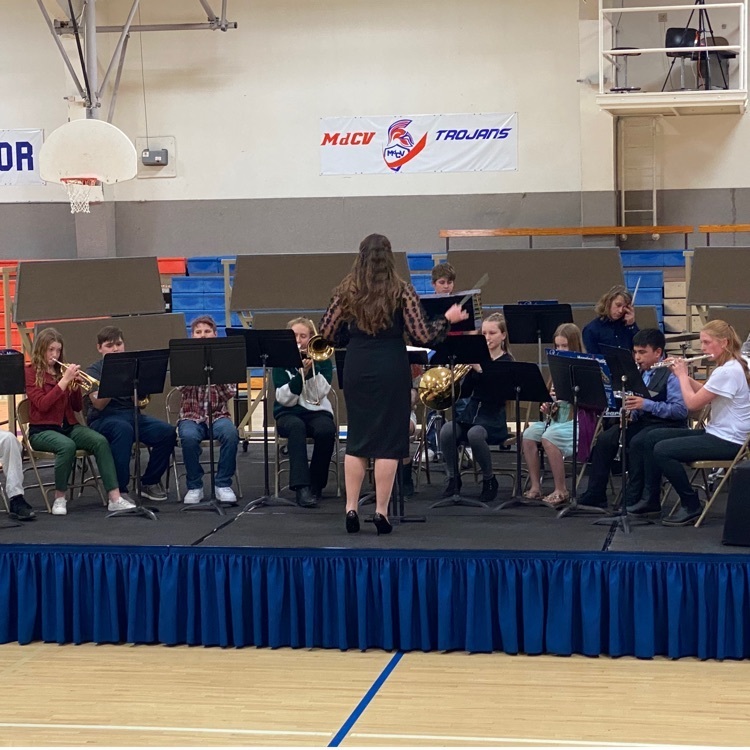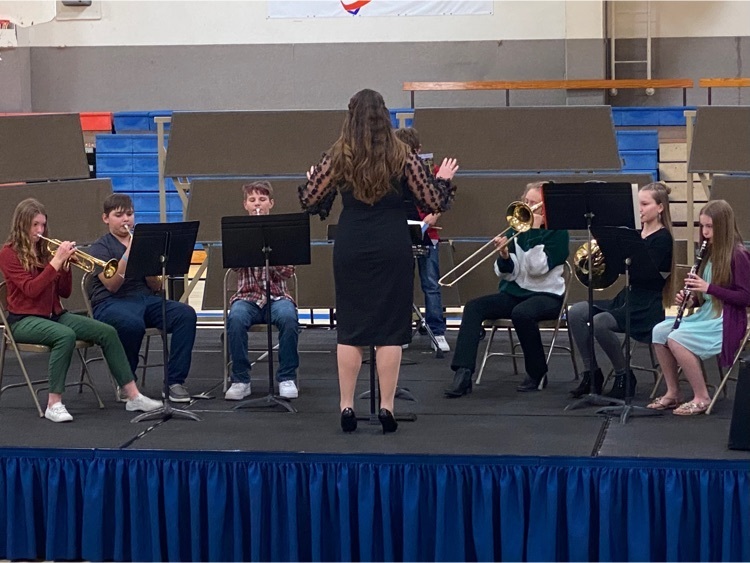 The agenda for the January 12, 2022 board of education meeting has been posted. To view, please follow this link:
https://5il.co/146ob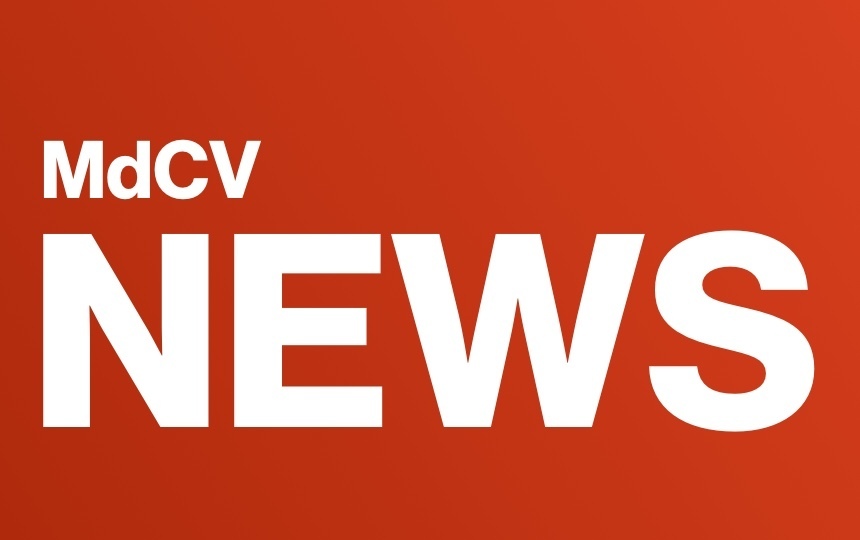 Preschool will not be in session Wednesday, January 12 and Thursday, January 13. Classes will resume on Tuesday, January 18. THIS IS ONLY THE PRESCHOOL.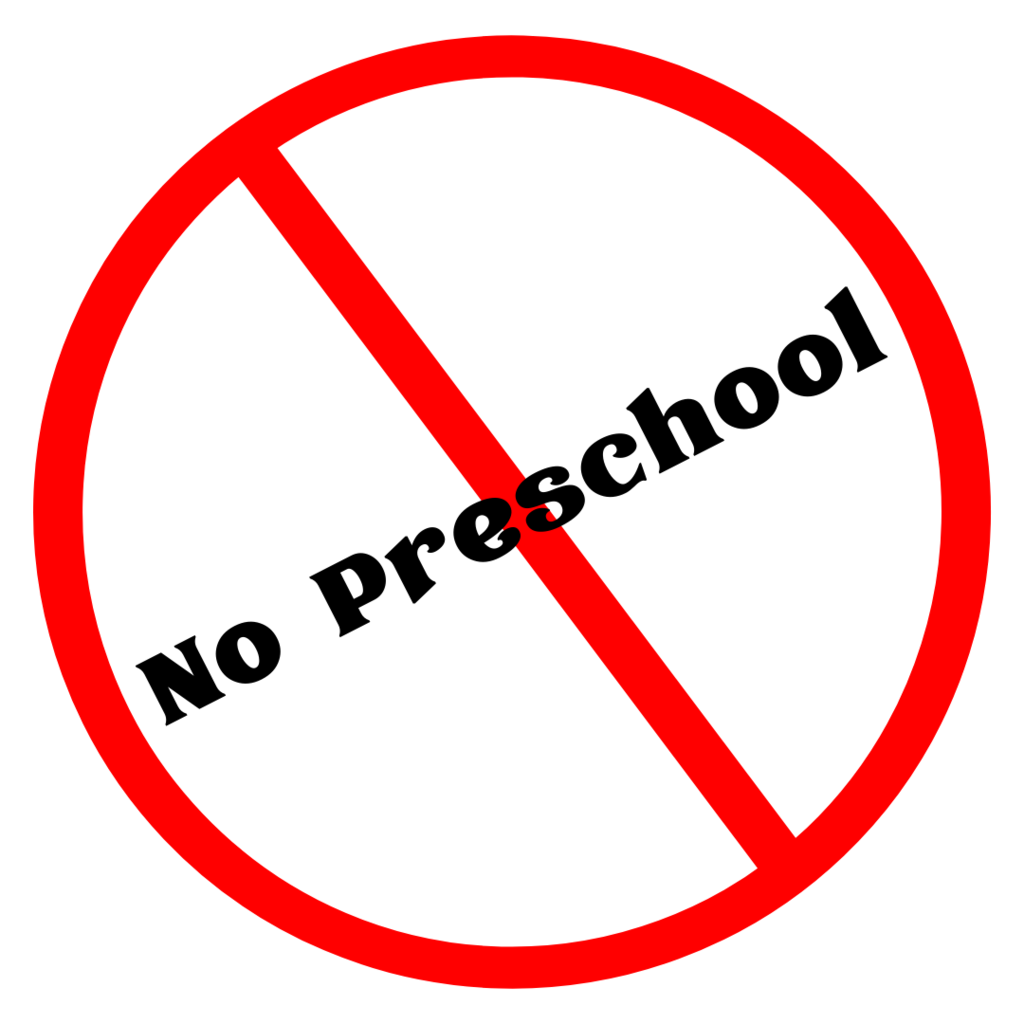 Just a reminder tomorrow night is the rescheduled winter concert for the junior and senior high students. It will start at 6:00 PM and it will be held in the Melvern gym.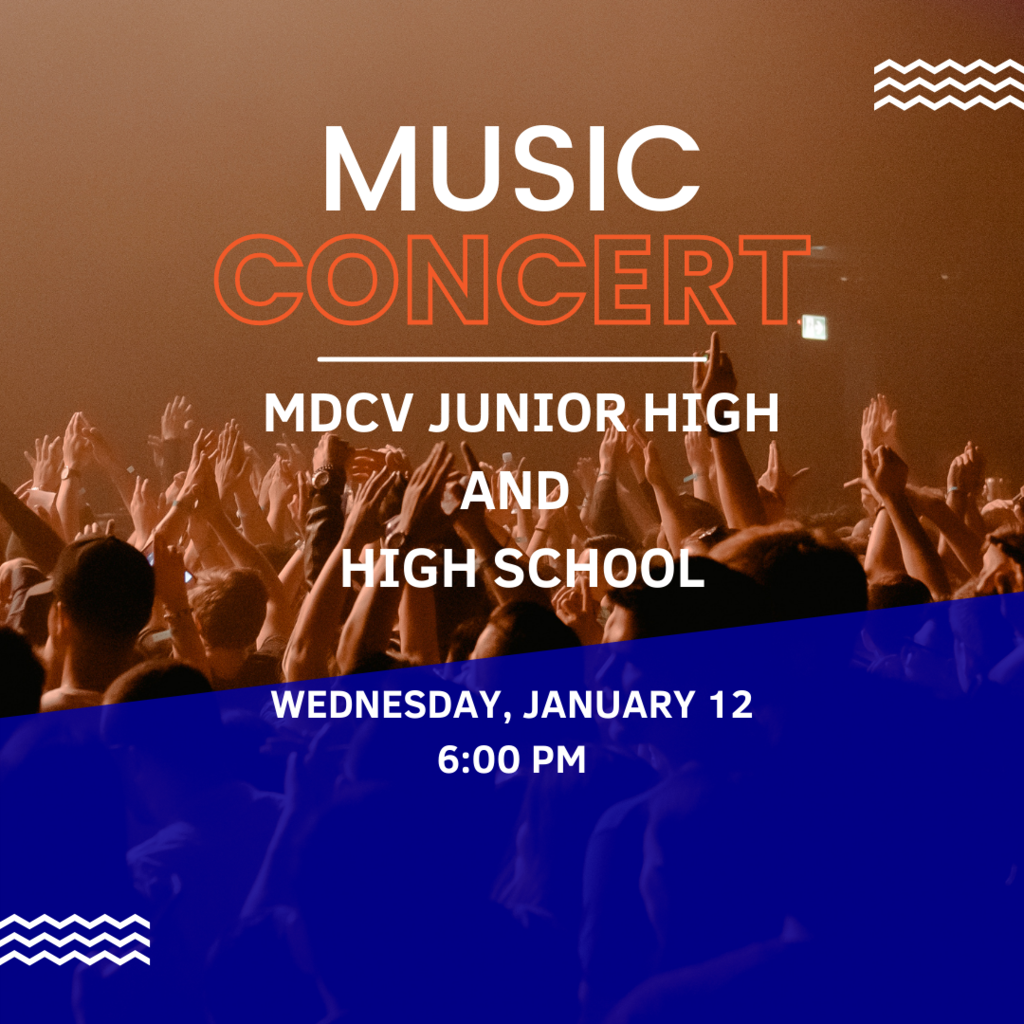 Alright, so which one of our MDCV Trojans traveled to Maine in the past 18 months?!?! The world really is a small place! Thank you for the returned mask, our Maine-based friend!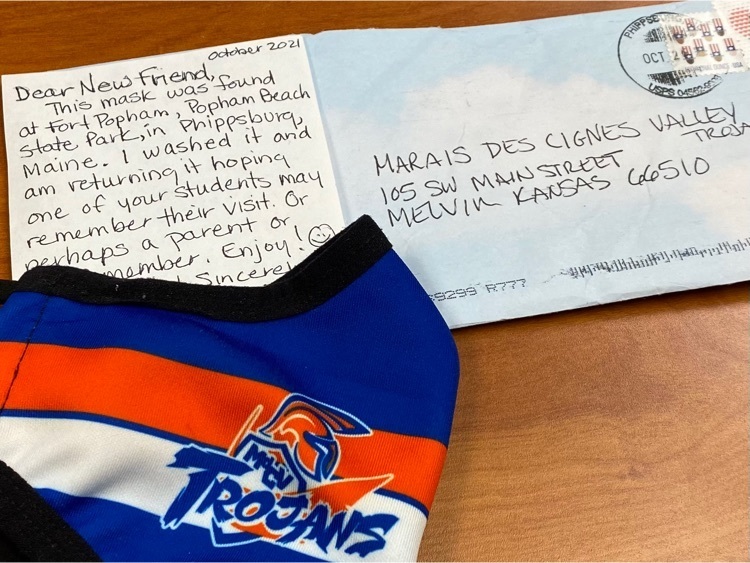 Menu Change for January 11 - the elementary school will be having French toast sticks for breakfast.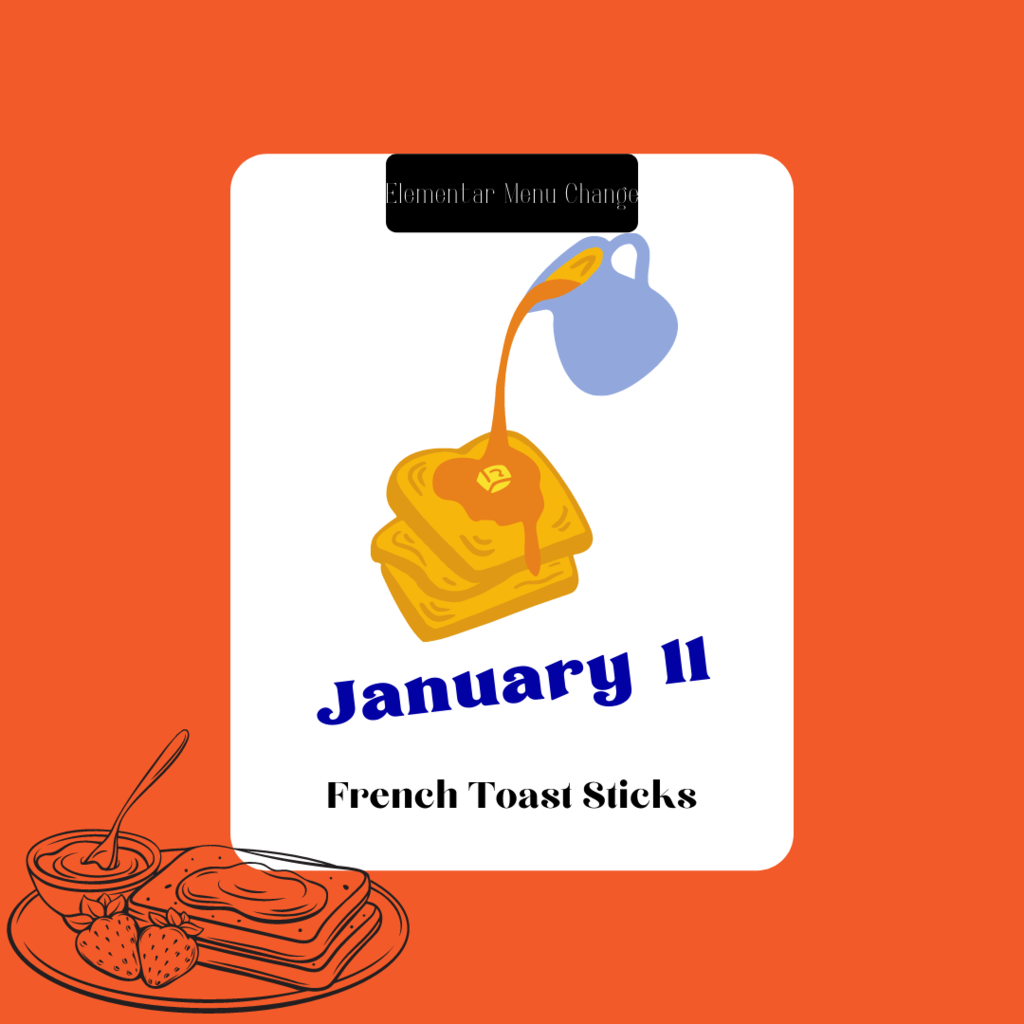 The High School Basketball teams travel to Waverly tomorrow, January 11th. Start time is 5:00 PM. There will be 2 quarters of JV Girls followed by Varsity Girls and Varsity Boys. No JV Boys. Good luck Trojans!

Good luck today JH Trojans!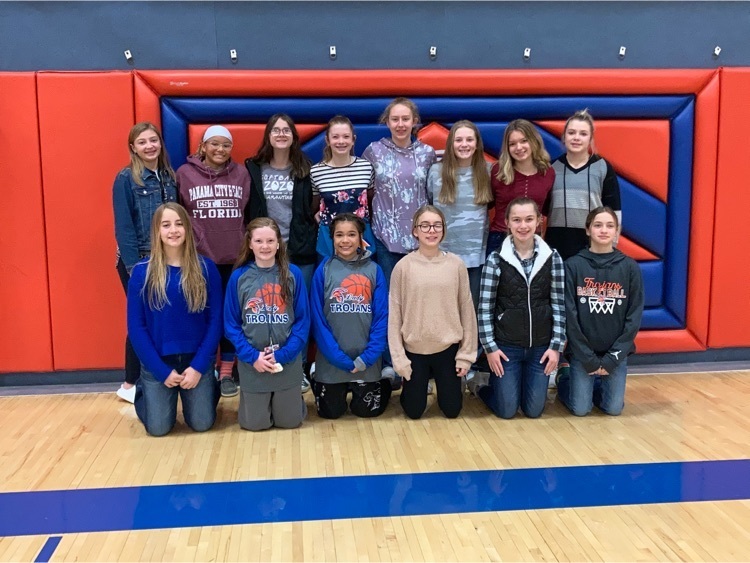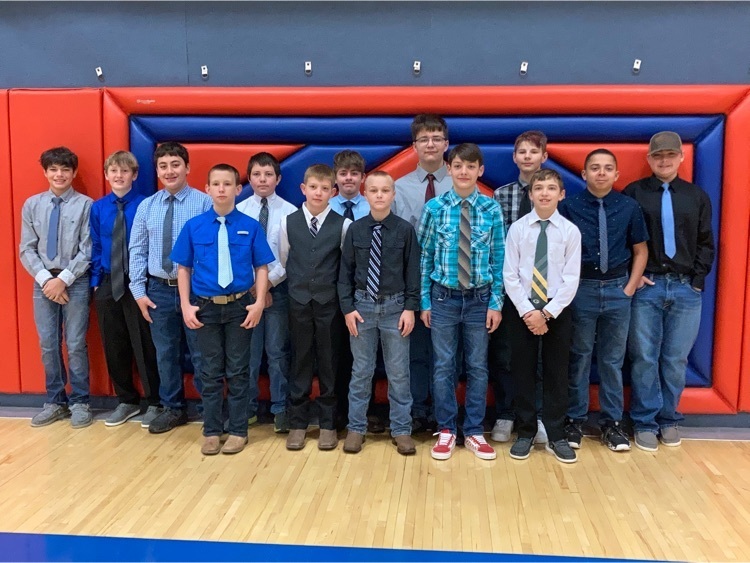 Reminder: High School basketball games are still being played at MdCV tonight against the visiting Lebo Wolves. The JV game will begin at 5 PM followed by the Varsity game.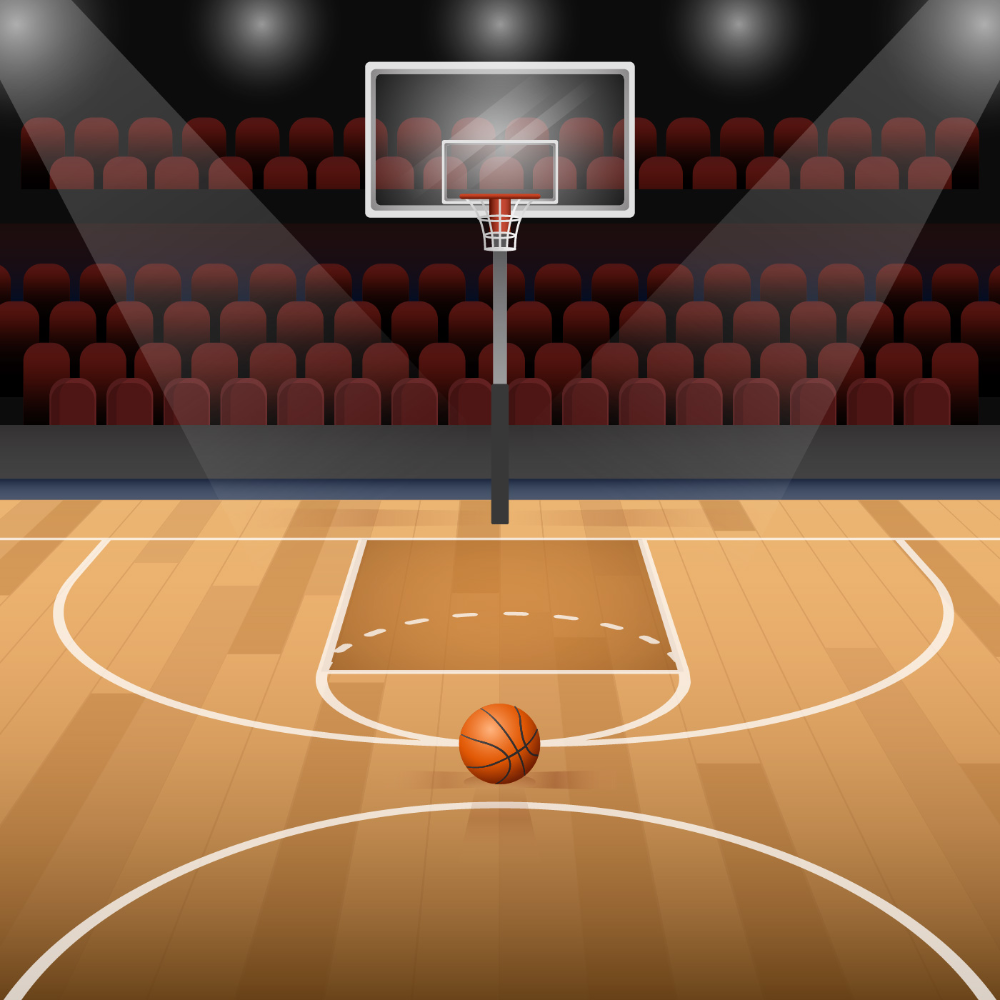 Junior High LCL Basketball Tournament kicks off tomorrow! Our Junior High Lady Trojans play at 10:15 AM in the large gym at Olpe followed by Boys at 11:30 AM in the large gym. The bus will be leaving at 8:00 AM from Melvern.

NOTIFICATION: Due to a heating issue at the elementary school and the potential for older students needing to stay home with elementary students, school district-wide has been CANCELLED for Friday, January 7th, 2022. Late Thursday evening, the boiler for the elementary building was found to not be producing heat and, upon inspection, was determined to have a gas supply issue that will require a fix that is unable to be performed before the start of school. To assist with this last minute change in schedule and to ensure elementary students are not potentially home without older siblings, it was decided to cancel class for the junior high and high school as well. However, high school basketball games will continue as scheduled for Friday evening.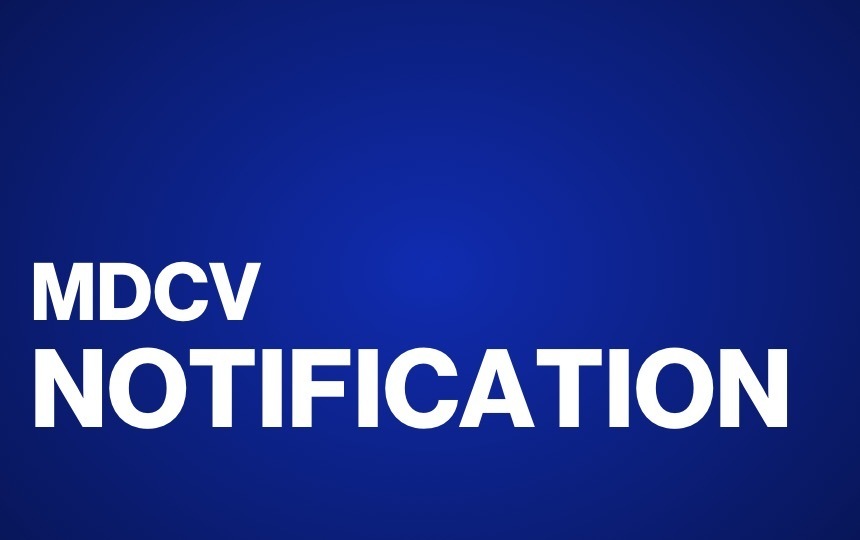 NOTIFICATION: Due to the current snowfall and the road conditions within the district, school has been DELAYED FOR TWO HOURS for Thursday, January 6th, 2022. According to the National Weather Service, snow is expected to continue into the morning hours, further complicating road conditions and making travel less than ideal. When a two-hour delayed start is implemented, classes begin at 10:00am instead of the typical 8:00am. Bus riders will be picked up two hours later than their expected pick-up time. Students who walk, are dropped off, or drive to school are not to arrive at school earlier than 9:45am, as staff are to report by 9:40am. Morning pre-school is cancelled. Breakfast will not be served. School dismissal time will remain on a regular schedule. All afternoon and evening programs will continue as scheduled unless announced otherwise. Be safe and Go Trojans!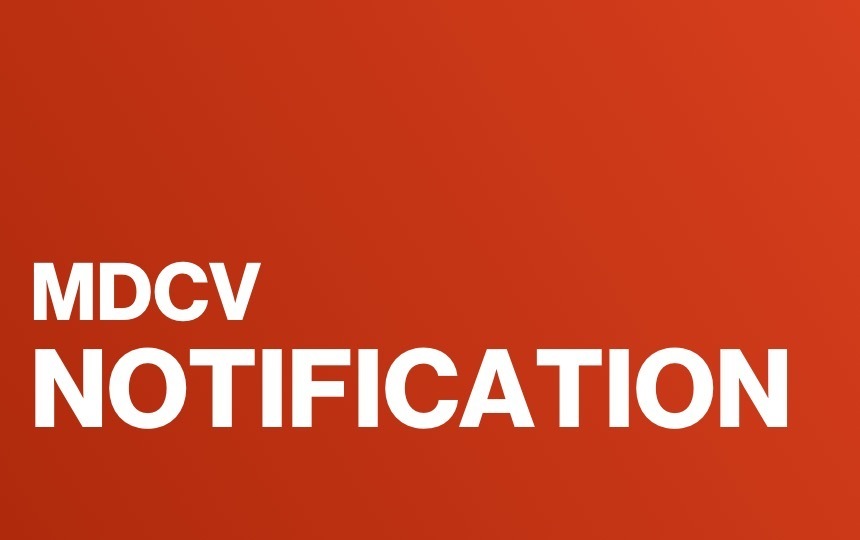 The Prom Shop is located in Burlingame and will be open January 14 - 16. If you have any questions please call or text 785-231-7267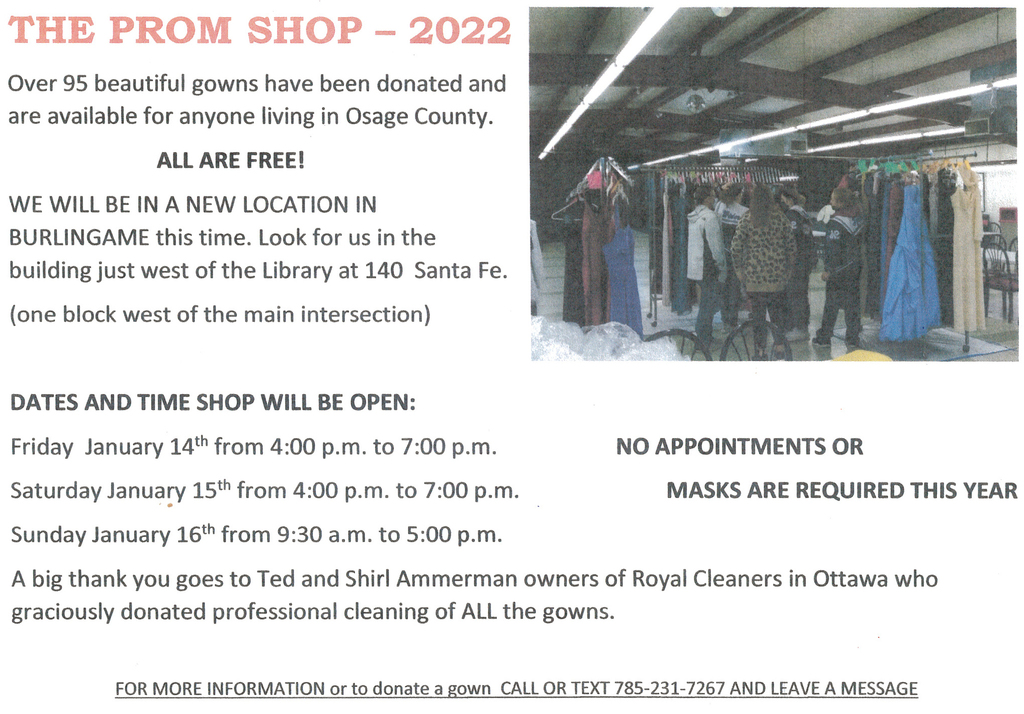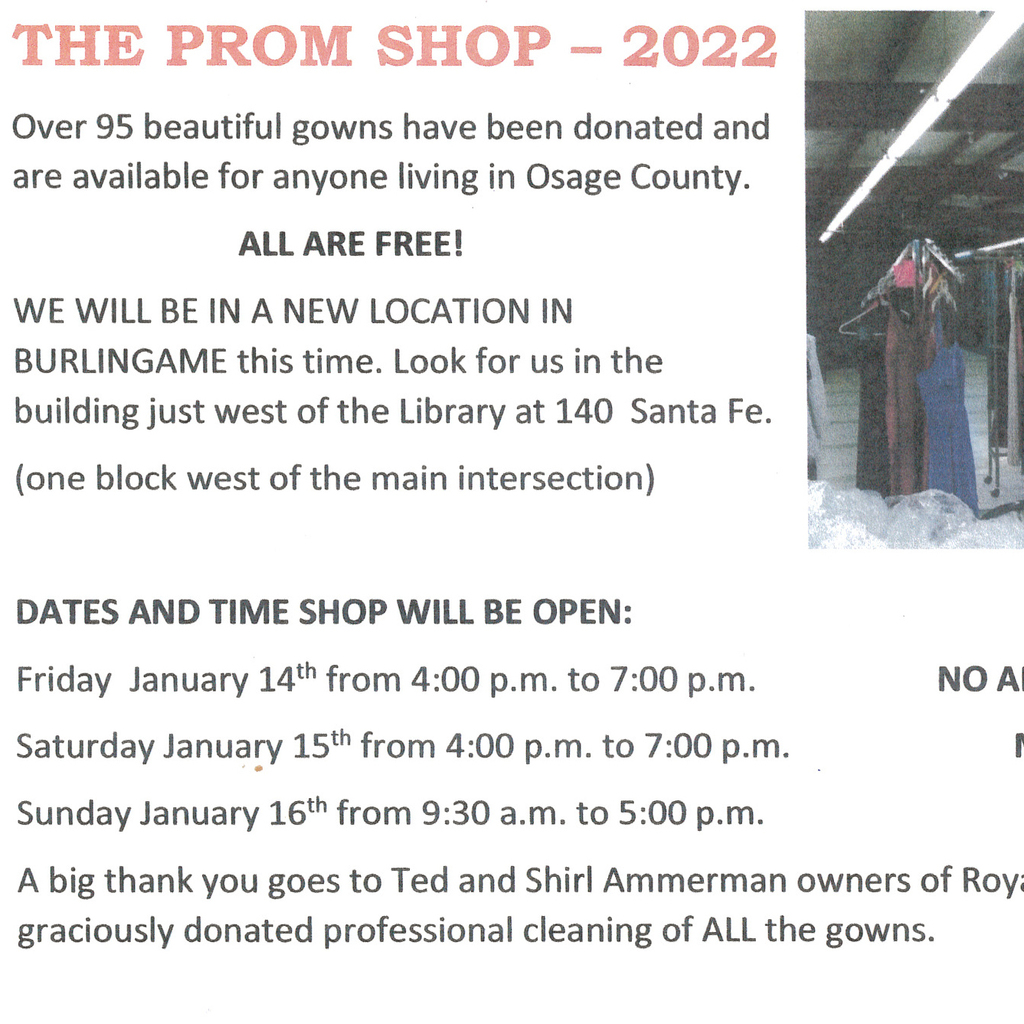 USD 456 is making plans to use the Elementary and Secondary School Emergency Relief III funds provided under the federal American Rescue Plan Act of 2021. The purpose of ESSER III is to address the impact of the pandemic on students by mitigating learning losses, supporting social-emotional needs, and ensuring safe in-person learning for students. We will submit an application for ESSER III funds to the Kansas Department of Education which must include input from a variety of stakeholders on how best to use these funds. Your input will impact how ESSER III funds are spent across the school district. Please take a few minutes to provide your feedback here:
https://forms.gle/k8s1bU5Fwy513HCfA
Thank you in advance for your input and participation.